3 Easy Steps to work with BootEditor
1) Style in BootEditor

2) Export CSS

3) Apply to your Website
Tailor Bootstrap Framework according to your needs with this Bootstrap Editor Software

This Bootstrap Editor uses all the components of bootstrap at the base and works offline to help you customize the Bootstrap Framework. You need not to know coding and can easily change the design elements of your Form, Button, Pagination etc using our BootEditor the best bootstrap editor. It offers live customization and you'll see your changes in real time. It is really a cool Bootstrap editor Software.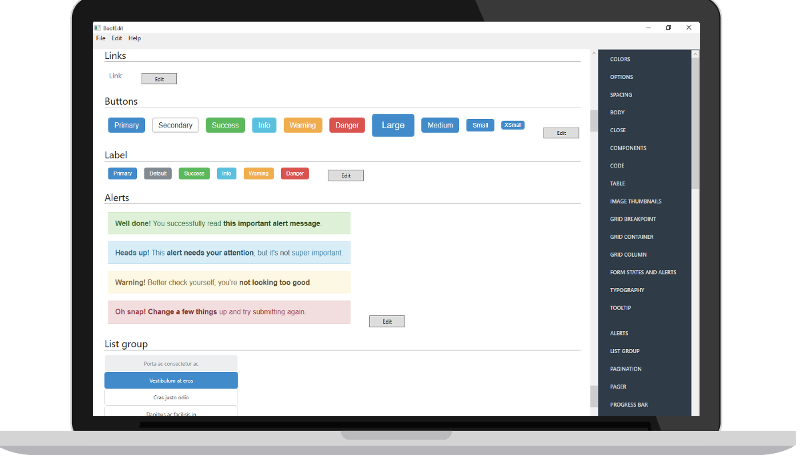 Get All the Features You Need!

Easy Installation
Installing BootEditor is like a piece of a cake – just download the Bootstrap editor software, double click on the download setup file and you are now ready to design your CSS using bootstrap framework. You need not to be an expert to use it.

Effortless customization
This Bootstrap layout builder offers live Bootstrap editing using Bootstrap's default Template and turn it to beautiful themes. You can customize all design elements of the Bootstrap Framework to your saticfaction.

Bootstrap V3,V4 Compatible
This Bootstrap layout generator is compatible with both Version 3 and Version 4 of Bootstrap. As you all know Boostrap 4 is in alpha stage, we'll keep in par with its developments and will be offering the new controlls and fixes accordingly.

Limitless Re-Editing
Once done tailoring bootstrap framework, our Bootstrap editor will save your beautifule CSS in its proprietory .bedt format. You can open this file back in BootEditor any time in future for further mdifications.

Regular Updates
We are quite frequent with iterations and versions providing regular updates for your favourate Bootstrap editor software keeping you in par with the latest advancements.


Technical Support
BootEditor Forums are open for issues and general discussion, we also participate there to help new users get started and help them fix any issues related to the Bootstrap editor Software. BootEditor community is growing.